Speakers and Chairs Bios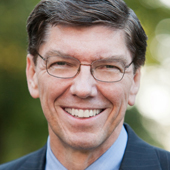 Clayton Christensen
US
Professor of Business Administration,
Harvard Business School
Professor Christensen holds a B.A. from Brigham Young University and an M.Phil. in applied econometrics from Oxford University where he studied as a Rhodes Scholar. He received an MBA and a DBA from the Harvard Business School, where he is currently the Kim B. Clark Professor of Business Administration. He also is a Senior Lecturer in Radiology at the Harvard Medical School. He is regarded as one of the world's top experts on innovation and growth.

Christensen founded a number of successful companies and organizations which use his theories in various ways. These include: Innosight, a consulting firm helping companies create new growth businesses; Rose Park Advisors, a firm that identifies and invests in disruptive companies; and The Christensen Institute, a non-profit think tank whose mission is to apply his theories to vexing societal problems such as healthcare, education, and economic growth.

Professor Christensen is the best-selling author of eleven books and several hundred articles, including the New York Times best-selling, How Will You Measure Your Life?. The Economist magazine named The Innovator's Dilemma as one of the six most important books about business ever written. A biannual poll of thousands of executives, consultants and business school professors in 2011 and again in 2013 named Christensen as the most influential business thinker in the world. He received the 2015 Edison Achievement Award for his significant and lasting contributions to innovation.

Professor Christensen was born in Salt Lake City, Utah. He worked as a missionary for the Church of Jesus Christ of Latter-day Saints in the Republic of Korea from 1971 to 1973 and continues to serve in his church in as many ways as he can. He and his wife Christine live in Belmont, MA. They are the parents of five children and grandparents to six grandchildren.